New Protection Plan Creates Affordable and Easy to Implement Cybersecurity "Safety Net" for Qualified MSPs and Their Business Clients
Overwatch Cyber Warranty™ Program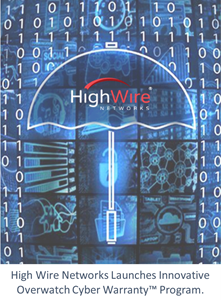 BATAVIA, Ill., June 07, 2023 (GLOBE NEWSWIRE) — High Wire Networks, Inc. (OTCQB: HWNI), a leading global provider of managed cybersecurity and technology enablement, has launched its new Overwatch Cyber Warranty™ Program. The new offering can provide a financial safety net for managed service providers (MSPs) and their business clients in the event of a cybersecurity breach.
The program addresses the increasing rise in cybercrime, with malware and ransomware attacks causing breaches that can result in costly remediation and lost sales, as well as fines and penalties.
According to IBM's latest Cost of a Data Breach Report, a data breach can now cost a business $9.4 million on average, with 60% leading to the cost being passed onto customers through increased prices that diminishes business competitiveness.
Last year there were more than 4,100 publicly disclosed data breaches that exposed over 22 billion customer records. That is likely just the tip of the iceberg, given that an estimated 98% of employees fail to report cyber hacks.
Despite the substantial risk, only 40% of U.S. businesses today carry cyber risk insurance, according to a survey conducted by the research firm, Ovum. Even among those that have such insurance, only 16% have insurance that covers all risks.
"Given the costs of the average data breach running into the millions and so few businesses addressing the risk with cyber insurance, our MSP channel partners are understandably concerned about a costly incident occurring under their watch," noted High Wire Networks COO, Stephen LaMarche. "Combining our Overwatch Managed Cybersecurity monitoring, detection and response with our cyber warranty protection plan can provide peace of mind for MSPs and their business customers, plus a meaningful competitive edge all around."
Overwatch Cyber Warranty provides expedited reimbursement for costs associated with remediating damaging cyberattacks. Moreover, it overcomes the two primary reasons companies gave Ovum for not having insurance: cost and lack of clarity about insurance pricing. The certified warranty also provides the underwriting requirements typically needed to qualify for a cybersecurity insurance policy.
High Wire can provide protection at a lower cost and with greater transparency compared to alternatives given the combination with its award-winning Overwatch cybersecurity services that can eliminate or dramatically diminish the impact of a successful cyber-attack.
As an example, a business could obtain a $500,000 Overwatch Cyber Warranty plan that covers:
$100,000 for ransomware and business email compromise protection.
$100,000 for compliance and regulatory failure protection.
$50,000 for business income loss protection.
$250,000 for cyber legal liability protection (after other guarantees are exhausted).
High Wire also makes it easy to enroll and collect on claims, with no application, underwriting or waiting for payments. MSPs can enroll clients quickly by simply confirming they are in good standing and subscribe to a prerequisite Overwatch cybersecurity services stack that would include antivirus, encryption, multifactor authentication, maintenance (patches and updates), security awareness training, bank routing change verification and regulatory compliance.
Overwatch Cyber Warranty is not cyber insurance, but it can be paired with more affordable cyber insurance policies for added protection. Overwatch Cyber Warranty clients may qualify for highly discounted or below-market cyber insurance policies of $1 million or more because as users of Overwatch cyber security services they are following best practices for cybersecurity.
The Overwatch Cyber Warranty Program enables MSPs to realize multiple important benefits:
Increased monthly recurring revenue (MRR) from full-stack sales.
Decreased risk of cyberattacks.
Improved return on investment.  
Reduced breach liability.
Greater differentiation from competitors.  
Lower customer churn.
The program is already being widely welcomed by High Wire's channel partners. Patrick Fischer, founder and CEO of The Vericom Group, commented: "Adding the High Wire's Cyber Warranty Program to our Overwatch Managed Cybersecurity services stack vastly increases the value we deliver to our business customers. We can now deliver industry-leading cyber protection that is backed by financial protection. Being better able to stand behind our managed cybersecurity services boosts our confidence, creates greater customer trust, and gives us a competitive edge in the marketplace."
To learn more about Overwatch Cyber Warranty™ Program, visit High Wire Networks online or email us at overwatchsales@highwirenetworks.com.
About High Wire Networks
High Wire Networks, Inc. (OTCQB: HWNI) is a fast-growing, award-winning global provider of managed cybersecurity and IT enablement services. Through more than 625 channel partners, it delivers trusted managed services for nearly 1,000 managed security customers and tens of thousands of technology customers. Its end-customers include hundreds of Fortune 500 companies and the nation's largest government agencies.
High Wire has 125 full-time employees worldwide and four U.S. offices, including a U.S. based 24/7 Network Operations Center and Security Operations Center in Chicago, with additional regional offices in Puerto Rico and United Kingdom.
High Wire was recently ranked by Frost & Sullivan as a Top 12 Managed Security Service Provider in the Americas. It was also recently named to CRN's MSP 500 and Elite 150 lists of the nation's top IT managed service providers.
Learn more at HighWireNetworks.com. Follow the company on Twitter, view its extensive series on YouTube or connect on LinkedIn.
Forward-Looking Statements
The above news release contains forward-looking statements. The statements contained in this document that are not statements of historical fact, including but not limited to, statements identified by the use of terms such as "anticipate," "appear," "believe," "could," "estimate," "expect," "hope," "indicate," "intend," "likely," "may," "might," "plan," "potential," "project," "seek," "should," "will," "would," and other variations or negative expressions of these terms, including statements related to expected market trends and the Company's performance, are all "forward-looking statements" within the meaning of the Private Securities Litigation Reform Act of 1995 and involve a number of risks and uncertainties. These statements are based on assumptions that management believes are reasonable based on currently available information, and include statements regarding the intent, belief or current expectations of the Company and its management. Prospective investors are cautioned that any such forward-looking statements are not guarantees of future performances and are subject to a wide range of external factors, uncertainties, business risks, and other risks identified in filings made by the company with the Securities and Exchange Commission. Actual results may differ materially from those indicated by such forward-looking statements. The Company expressly disclaims any obligation or undertaking to update or revise any forward-looking statement contained herein to reflect any change in the company's expectations with regard thereto or any change in events, conditions or circumstances upon which any statement is based except as required by applicable law and regulations.
Company Contact
Susanna Song
VP of Marketing and Communications
High Wire Networks
Tel +1 (952) 974-4000
Email contact
Tim Randall
CMA Media Relations
Tel +1 (949) 432-7572
Email contact
Investor Relations
Ronald Both or Grant Stude
CMA Investor Relations
Tel +1 (949) 432-7557
Email contact
A photo accompanying this announcement is available at https://www.globenewswire.com/NewsRoom/AttachmentNg/35e50420-2b68-43b0-8c11-c788be21e7cd